We're Going To Need More Wine: Book Review
Gabrielle Union is one of the most well-known and accomplished Black actresses of the twenty-first century. Many of us grew up watching her on shows like Sister, Sister or movies like Bring It On. She has played the leading lady in many of our favorite big screen films and has commanded her starring role in the television series Being Mary Jane. But through all of her acting, most have never been fortunate enough to personally know Gabrielle and who she is as a person. Well, her latest memoir, We're Going To Need More Wine: Stories That Are Funny, Complicated, and True gives fans an avid glimpse into what makes Gabrielle Union, Gabrielle Union. Her book tells stories about personal identity, self-confidence, and heartbreak. She tells her stories with such candor and transparency that you can't help but to get lost in her life. What really makes Gabrielle's story so remarkable is the way that she tells it. This woman is a natural born storyteller that will make cry, laugh, and cheer for her. You won't be able to put this book down because there's never a dull moment (to prove such, I've provided a list of her chapter names).
I was fortunate enough to meet Gabrielle and speak to her momentarily at a recent book signing. Within the book, she reveals that as a kid she suffered from low self-esteem and that she always wanted to fit in. She grew up in Pleasanton, California, a predominately White suburb in the Bay Area where she was often perceived as "the other". She also addresses her experience with getting raped at gun point at age 19 and how she developed PTSD from that trauma. Given her shy nature and past traumatic experiences that would physically cause her to hide when feeling threatened (she jokes that you could literally find her crouched behind a dumpster at times), I was curious as to why she chose such a high profile career. Ironically, her memoir never really alludes as to how she got into acting, but focuses more on her personal life experiences. She replied, "It's simple, I wanted to be chosen. In Pleasanton, I was never the girl the boys were interested in or the girl everyone wanted to be. When I go on auditions, I have a chance to be chosen and when I'm in a movie I'm seen by millions." When asked what her 60-second answer is on how to change the world, she replied, "Being your most authentic self can change the energy of any give space...you can't function in fear and be authentic. Find the power to speak and act and you'll be un-fucking stoppable."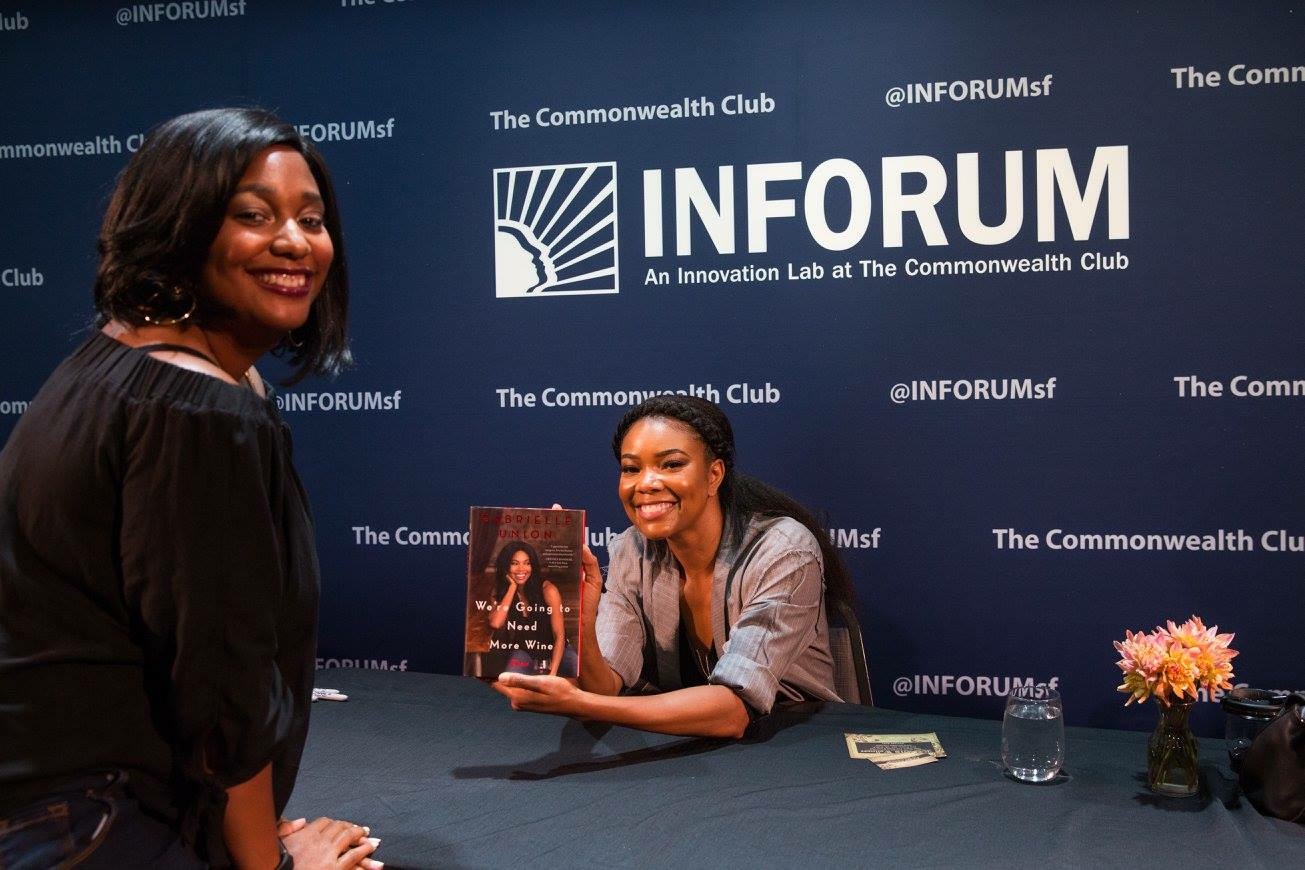 "You can't function in fear and be authentic."
- Gabrielle Union
Photo Credit: The Commonwealth Club
Gabrielle's stories are so relatable, you feel like you've known her for years. She takes you on a journey of how she's achieved self-confidence, but isn't afraid to let you know that some days are harder than others and that she still makes mistakes. Whether she's discussing racial identity and acceptance, sexual freedom, her marriages, issues with self-esteem, difficulties with infertility, the ugly side of fame, what it means to be a step-mother, or the complexity of family and friendship she is completely and authentically herself. Her life story is full of lessons and inspiration. Gabrielle gives you so much in this book, you really couldn't ask for more.
Gabrielle, thank you for your candor and making me laugh out loud, literally.
Keep Inspiring!
XOXO - Mechelle
Have you read We're Going To Need More Wine yet? What's your favorite part (mine is the yogurt incident LOL)?